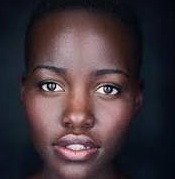 Lupita Nyong'O brought attention to the historic snubbing of black women actors when she won an Oscar for Best Female Supporting Actress in the movie 12 Years a Slave. For weeks now, we've not heard her name mentioned without it being prefaced by the word "beautiful".  Her face is that of the little girl who lives across the street, your best friend's baby or one of your cousins. It's honest and portrays innocence. It is a face of Truth.
Ellen DeGeneres, while hosting the 2014 Oscars, cracked that if 12 Years a Slave and Lupita Nyong'O were ignored by the Academy, then we would all know that it was clearly racism.
When the television series, Scandal – starring the outstanding Kerry Washington, first started, the majority media was eerily quiet about it.  When NPR (stellar in fair media and a media beacon on diverse issues)  introduced its picks for the 2013 fall TV season, even they completely overlooked Scandal. Sort of in the manner that older whites don't mention a friend's black mistress.  Yet most black folks were breaking their necks to get in front of the TV on Thursday nights. Didn't the rest of America recognize a juicy drama like we did? Even though they were silent on it, we knew they were "retiring for bed early" so they could watch it on their bedroom TVs while their spouses were either clueless or quietly (earphones in) watching on the den TV.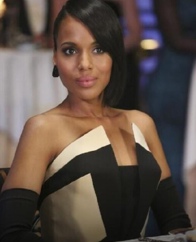 Kerry went on to win the first Emmy awarded to a black actress in the last eighteen years. While Lena Horne and Halle Berry and so many others have shown incredible talent over the years, both Ms. Washington and Ms. Nyong'O bring something that America can't deny respect for: Ivy League educations  and a presence made so powerful through both their physical grace and words that fall out of their mouths as if poetic geniuses were at their lips crafting them.
There is no doubt, that as women go, they are exceptional.  And that as black women go, they are carrying brown beautifully. They are also reminding us to look around us, where we see the Kerries and Lupitas in our communities every day. The Michelle Obamas and Susan Rices fill our classrooms. Their faces are those of the little girls who live across the street from us, our older sisters and ourselves, yesterday, today and tomorrow. They (and We) carry the truth of Spirit.
"May it remind me and every little child that no matter where you're from, your dreams are valid."(Lupita Nyong'O)