Join our network! Joining our network brings many benefits.  Our site traffic multiplied more than 60X in the first quarter of last year! It has been steadily increasing since then. We receive calls daily from insurance providers, labor organizations, EAPs, hospitals, schools, medical providers, television & radio stations right along with prospective clients. Due to our candidness, we think, health organizations and the mental health field have come around to acknowledging the importance of culture-identical treatment in the outcome of therapy.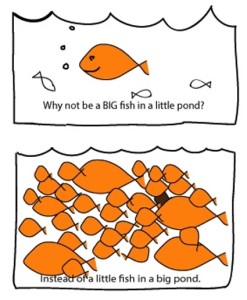 Click here to submit your listing
Benefits and cost of listing your practice with AfricanAmericanTherapists.com
There are many benefits. For example, you will
Stand out from the crowd
You can be a big fish in a small pond rather than a small fish in a big pond.  Clients who are looking for help will not have to wade through page after page looking for you. They will not have to wonder if you share & respect many of their experiences and values.
Gain national visibility in your niche
Clients, corporations, and government agencies. EAP programs, HR departments, national franchises, media producers and others are looking for black providers for their employees, contracts and clients. Over the last fourteen years we have gained a following of individuals for whom we are the "go to" source for black mental health professionals. Some of our providers have gained lucrative contracts and opportunities that they otherwise would not have – just through their visibility on AfricanAmericanTherapists.com. We hope you'll join us!
Commune with your professional peers
A website of cultural peers provides a place to focus on mutual concerns with the special perspective that we share along with learning the research and expertise of sisters and brothers on topics that we really need.
Share culturally appropriate treatment approaches
We've each been taught the basics of therapy techniques but they serve only as a framework reinforcing standards of care.  It is the understanding of where we have been as a people & the specific challenges that exist in black life that allows us to fine tune that training so that it is more acceptable to those we serve.
Develop culturally sensitive marketing
AfricanAmericanTherapists.com will teach you how to package, market and make good care affordable but still run a healthy practice. We can share ideas, learn from each other and gain exposure to targeted marketing, advertising and communication vehicles. Tips and insights from seasoned providers and the  creativity and fresh approaches of new providers can be shared for the betterment of all of us. (In process)
Recognize emerging threats to black mental health
Gain validation of factors that contribute to the high level of stress-induced mental health problems of black Americans. Stay abreast of mental health, educational and whole health issues that disproportionately impact the mental and physical health of our clients. Brainstorm on ways to reduce their effects naturally, without saturating our communities with more drugs.
Gain awareness of new factors impacting private practice in the upcoming years
For many, private practice is new or something we do on the side to supplement our full-time work. As our economy and society evolve, there are players in the healthcare field who are not trained as human service providers. These changes and this diversity of interested parties brings legal, financial and ethical concerns that are most competitively played out in the communities of color. We can see how our medical partners are already seriously affected and over the next two years, it will be essential for private practitioners to understand all of the factors at work in shaping the upcoming health services landscape. Whether you sink or swim will depend on accurate, thorough information and creativity in planning.
Learn ways to improve your services, gain attention in your area and expand your income sources
Directory members will be mentioned in local and regional marketing. While many clients may initially find you in other website venues, it is your listing on AfricanAmericanTherapists.com that they say provides them with the confidence to call you. Join today!
Cost
The cost is only that of 1-2 sessions per year!
For an annual cost equal to 
less than one session*
, you can be visible in both your city and across the country. Monthly cost is 
only
$19.95
. If you pay annually, you'll receive a great discount .
(*Fee averages vary in different locations.)
Payment may be made online via the PayPal link when you choose your listing option.
If you are unable to use the PayPal feature, you may call in your credit or debit card payment to: 888-584-6555 or you may mail your check to The Mind Spa, Inc., P.O. Box 4116, Clifton, NJ 07012
We find that site visitors spend alot of time considering  listings before they choose a provider. Our site not only educates sisters & brothers about what to expect of therapy but also provides tips on how to establish a positive therapy alliance that is mutually respectful AND honors our cultural expectations of a helping relationship.
It is almost completely overlooked in the mental health field (?!), but living in a color conscious society saddles most of our clients with an extra layer of stress. We recognize this invisible burden & address whatever way we sense that it is affecting our clients. Having identified this, clients can go on to address ways to deflect it & grow their skills in other aspects of their lives.
Click here to submit your  listing