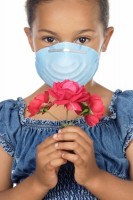 People come in hacking and struggling, miserable because they can barely breathe, so we are always interested in what is and isn't working for them. Understand that every body is different, so some things work for some body types and not for others.
Here's the summary of the natural (mostly) and good old fashioned "Mama's" remedies: (Consult your doctor)
Chicken soup – Really!  Scientific research has now revealed that  a substance obtained from cooking chicken bones into a broth has high immune value. Just throw a couple of pieces of chicken into a pot of water with onion (more immune power), celery & parsley, add a little salt & pepper to taste & cook until the meat is done all the way through. It's good to have some in the freezer & ready.  Can't do? Try a little Egg Drop soup at your local Chinese  takeout. Canned chicken soup is helpful but the salt content in most canned soups is really high. You don't want to add to your problems.
The little tangerine! I keep a bowl of clementines around during cold season. Just eat a couple of these and they seem to help even more than the chicken soup. There is something in them that works far better than oranges for colds for many people.
CoQ-10. This supplement is said to increase your ability to get oxygen to your cells. It's also taken to improve heart health.
The neti pot.  Oprah introduced the neti pot to the public, raving about what it does for her sinuses. Clients have tried it and they rave, too. You can find neti pots now at most drug stores, Whole Foods markets and many other grocery stores.
Zinc. This mineral is very helpful when you are troubled by inflammation of the sinuses and throat. We think germs don't like zinc. Zinc is a necessary mineral and can be purchased at low cost from most grocery & health food stores.  These are zinc pills with no sugar base as is the case with zinc lozenges. Viruses grow on sugar, so you don't want to feed the organisms that you are fighting. Many people diagnosed with ADHD are thought to be deficient in zinc.
Epsom Salt bath. People think of epsom salt baths as good for aches and pains and muscle inflammation.  Many folks report that it seems to draw "the yuckies" out of the body and clear up the sinuses when they have the flu or a bad cold. Look for the epsom salt that has magnesium.  For external use only. Follow the directions on the package.
Check out some of the natural cough syrups. They can be very soothing and helpful without adding the stimulant ephedrine which some people have trouble with.
Non-natural solutions:
Mucinex – Follow the directions and cautions and be sure to drink plenty of water. Some people do well taking just half the recommended dose.
Tamiflu – People find that this shortens the length of time they are ill with the flu. You must be diagnosed with the flu and given a prescription for this by your doctor.
There are many other natural cough & cold remedies. Some ailments may actually be the result of allergies. There seem to be more severe airborne allergens. For some people colds and allergens set off asthma. Some short, hacking coughs are not just colds but also signal asthma. A cough with a sort of honking sound may also be asthma. If you can't catch your breath or have pressure in your chest, head for the doctor.
With asthma, flu & colds, removing allergens and certain foods will reduce the disabling symptoms. That means no dairy, sweet foods or drinks. Milk causes some to produce more mucous and sugars feed germs and viruses making them stronger and you weaker.
Last of all, when you feel a cold coming on and  keep your chest covered, take vitamin C (not orange juice). People report doses of 2,000 mg are usually effective in stopping or slowing down infections.
Oscilloccoccinum – weird name – is a tiny, pleasant homeopathic remedy available at Whole Foods and many health food stores & natural groceries. For the price it's worth its weight in gold if you take it in time. It can ward off the flu while others are dropping around you.
Simplest preventive? Wear gloves & try to avoid touch pads and other surfaces that others handle. Wash your hands frequently and keep a non-toxic hand disinfectant close by.