Do your kids eat chicken nuggets? This first week in April, 2014, Tyson Foods has issued a recall of 5 pound bags of chicken nuggets sold at Sam's Clubs. They reportedly received calls from customers reporting plastic particles mixed into some of their packaged nuggets.  And while we're looking at chicken nuggets, there have been a number of reports about how other manufacturers make chicken nuggets and the sources and types of meat used to make them. While Tyson, in the current press release notes that their chicken nuggets are made from white meat, reports of questionable nugget content associated some brands with a form of chicken "pink slime".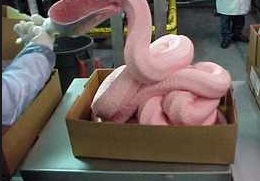 Some clinicians have noted that children presenting with ADHD and other neurological problems reported daily or weekly consumption of chicken nuggets and some higher sugar-content breakfast cereals.

Many pure food advocates feel that ALL cereals are poor nutrition for children and expose them to a number of additives & chemicals used in the processing of grains into cereal.  In addition, many children may be missing important minerals and vitamins because they consume these processed foods instead.
High quality protein to start the day is associated with better behavior, longer attention spans and better memory. Sources of protein are lean meats, eggs, fish and various beans.  Morning smoothies made with frozen organic fruit, a few kale leaves, nut milks,  hemp protein powder and no added sugars, juices or syrups provide a quick, healthy start.
What?! No waffles, pancakes, pop tarts, granola bars, biscuits, donuts and other forms of the same stuff the cereals are made of on the recommended list? Certainly not.