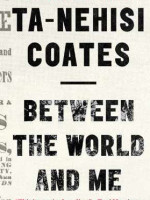 "Crazy"….is what people feel when their reality doesn't match that of the masses. "Crazy" is what many black folks have been made to feel upon entering the wider American culture. In many parts of the US, whites make blacks look and feel crazy because of their denial of racism.
"Between the World & Me" is a new, non-toxic, natural antidepressant. A balm of words, concocted by a master pharmacist of the black experience, Ta-Nehisi Coates, Senior Editor at The Atlantic Monthly. Ta-Nehesi puts racism on a glass slide and puts the slide under a microscope that not only magnifies for dissection, the pathogen thereon,  but allows one to verify the feeling caused by that pathogen.
This is a book that every mother, actually every black person, should read. It helps gel those streams of hurt, embarrassment, anger, disgust, frustration, sadness, reactive paranoia and as he points out, fear, that roll constantly off black people's backs. In more solid form, one can more closely examine them and then toss them away. Or one can examine them, identify them and set up preventive barriers.