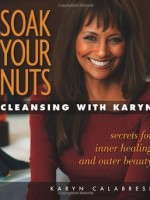 Now, after all that holiday eating, you can clean up your body internally. This makes your brain happy as well. A happy brain means happy moods, not to mention better health. Karyn Calabrese, a Chicago native and detox guru, breaks it down in her books on detoxing and healthy – really healthy – eating.
This sixty-six year old (yep, that's a recent picture) says she hasn't had a cold in 30 years by eating this way. Can't sleep, grumpy, achy joints, skin problems, depression, anxiety & blood sugar problems? Make it your New Year's resolution to order one of Karyn's books, available through her website, http://www.karynraw.com or on Amazon.com. Kindle version available.
Not surprisingly, many have found that after changing their diets, eliminating processed food & the chemicals in them and providing their brains with improved vitamin & mineral sources – their depression, anxiety, mania, etc. goes away.  Cheaper than many of those drugs and none of the risks.
More on great anti-aging foods
Soak Your Nuts: Karyn's Conscious Comfort Foods, Book Publishing Company, 2013. ISBN-13: 978-1570672750.
Soak Your Nuts:Cleansing With Karyn: Detox Secrets for Inner Healing and Outer Beauty,  Healthy Living Publications, 2011. ISBN-13: 978-1570672644.