A good rule of thumb for choosing a therapist is to find someone who can understand your feelings – someone who sees the world from your perspective in some way. You assume that their familiarity with you will help them protect you more effectively.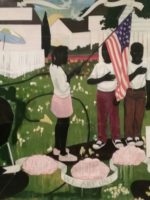 In this 2016 election upset, the outsider who has stunned the world, has demonstrated that he sees women, immigrants, African Americans and Latinos as the outsiders. The newly elected misogynistic, reportedly racist, clearly flawed president-elect has no history of public service and yet he is taking on the role of protector & advocate for all Americans.  Many black folks (and whites, gays and women and differently-abled)  are now decidedly nervous.  With a penchant for "law & order" while being blind to the injustices acted out on black men & women daily through the criminal justice system, our fathers, spouses and children can become easy targets in this crisis of economic, religious and racial change.  What to do, what to do?
10 Steps to protect black life, especially in a Republican administration:
PLAN AHEAD
Start planning now to take your whole family to vote.  Four years will pass before you know it. Be educated and prepared for local upcoming elections.
Join & become active in your local political process and party of choice.
Keep a lawyer & law enforcement friends on speed dial. Check out apps that will automatically send your phone video to the ACLU. Know and communicate with your local public officials.
Teach your kids how to interact with policemen & others in authority.
BE VIGILANT: Monitor your kids' whereabouts, know their friends & keep them busy in healthy activities. Be nicely nosy.  Practice gentle but effective intervention. Parenting is a 24/7 job.
ADJUST THE SOLUTION TO THE LEVEL OF THE PROBLEM: Don't use the police to settle family disputes & minor neighborhood disagreements. Have a plan in place for settling differences & learn to back down when it can save a life.  If the issue is serious enough,  use your church, school or community officials to help you negotiate solutions. If a family member has extreme stress or mental health needs, get them to a psychiatrist, mental health clinic or therapist. If drugs are being used in your home, contact a drug program or addictions counselor for help. Be respectfully persistent in getting them help from the right professionals. Police persons are not mental health specialists!
Face your relationship problems with the intention of being fair to all parties. You could win the argument now but be faced with violence later. Every little slight does not require redress. Allow yourself & others to make interpersonal mistakes – to have a bad day. Let the minor things pass while you plan a fair, effective strategy to handle common problems in a democratic way.