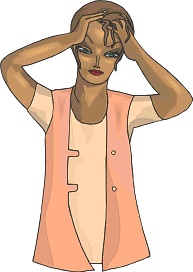 What happened that made Solange let loose?
It seems that alot of what makes the news everyday is really about mental health – poor mental health – that is to say: people losing it!
On May 5 th, Solange Knowles, sister of Beyonce Knowles, seems to have lost it. Unfortunately for her, everybody gets to see what happened, but only a few people know what happened. So most of us are sitting around, (like little kids do when they see another kid crying), asking "What happened? Why was she so upset?" Why did she lose it? What happened that caused her to risk her beautiful gown, her relationship with her brother-in-law Jay Z, and (maybe not) her relationship with her sister enough to start whaling on him?
From the YouTube video it looks like she left her inhibitions on the previous floor in the Boom Boom Room of Manhattan's Standard Hotel and let her feelings take control. She delivered some serious kicks & those heels were weapon-high. Jay Z looked stunned as he exited the elevator.
Why it matters
Why is it important? Because so many folks assume that if you have fame (maybe not enough) and fortune (maybe not enough) then you will be so happy that you'll never lose your cool. Some folks cannot imagine letting their anger rip like that and they worry if whatever made Solange lose it, might make them lose it.
Who would you side with?
Did you find yourself siding with Jay-Z, Beyonce or Solange? Our initial casual survey gave Jay Z support.  Rumors have been flying for the last few days.  Just a few hours ago, the New York Daily News reported that the incident was the result of Solange's feeling that Rachel Roy, former wife of hip-hop artist Damon Dash, had gotten a little too friendly with Jay Z. Whew! All that over some flirting? Maybe not.
What happens in the Boom Boom Room stays in the Boom Boom Room?
What would make a sister lose control like that?
We in the mental health field would be asking several questions, such as:
What's the history here? Are Solange and Beyonce constantly fighting off the women? Are there other issues that have been building up?
Why so intense? Would a simple aside to the sister have served the purpose? Like we tell kids: "Use your words to express your feelings." (Not your feet.) Were hormones stoking the emotions? Hormones can turn a disappointment into an appointment for war.
Well, soon we'll know the real story, but in the meantime, this, like so much of the daily news about our peers and our idols, will provide lessons for us.
The big lesson here: We all are just human beings trying to handle our feelings and get through life gracefully and joyfully. Sometimes we're not graceful. Sometimes we're not taking in the joy.
Little lesson here: there are cameras everywhere. Clearly, Beyonce kept that in mind.